Post by ticatfan94 on Jul 23, 2022 0:00:15 GMT -5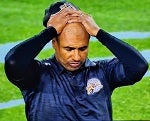 - We probably should have just kicked the FG. If the strength of this team is Defence, why not put the game in their hands?
- It seems while we have some improvements in play "creativity" when the game is on the line we revert back to safe. 2nd and 2 - You have Tim White, Addison and a more mobile QB in Shiltz..... Shotgun inside handoff (that the whole planet knew was coming). Leads me back to the Grey Cup, 1st down on the 7 or whatever it was... 2 inside handoffs.
- In that same situation why not QB sneak? If you know you're going for 3rd down, why not call a 2nd down play that should get you to at least 3rd and 1 - it also would have killed another 20-40 seconds. Frustrating that when the chips are down, we go back to our conservative/predictable roots. I would have liked to see a misdirection play with multiple options - just as I would have liked to in the Grey Cup on 2nd down at the 3-5 yd line.
- You can't bring in an import kicker and miss a 40 yarder, in a dome, from dead straight away. Cant happen. The leash on Small needs to be short, and we should have 2 more import kickers in here tomorrow to challenge.
- Domagala may have a new career as a punter - I thought he was quite good. Could he work on his kicking enough to do both jobs? That remains to be seen but would be a nice roster/ratio breaker if possible.
- One may look at the rushing stats and say "See the OLine has improved" - that's not what I see. Don Jackson had 11 / 36 for a 3.3 yd average. It was Shiltz, Addison, White and Thomas-Erlington that provided the bulk of the rushing yards with 10 yard (or so) average between them. These are misdirection plays and not power plays, more indicative of creativity in the offense, runs around the outside, etc. Not complaining about the result but speaks more to Condell working with what he has and less to OLine success IMO.
- The challenge on the No Yards was emotional. Didn't think it was worth it. Didn't impact the game as they punted anyways. Now how the Kommand Centre missed that was, well... expected.
- Shiltz needs to stop with the "Round the outside" sneak on EVERY 3rd down. You have to trust the Oline to get the 1 yard the majority of the time and sprinkle in the bust outside every once in a while. It's dangerous and leads to stops, as witnessed last night. Nobody will blame him if he gets stuffed because the line doesn't hold up, but i'll certainly blame him if he tries the outside and gets met by Ja'Gared Davis.
- Suitor was not as bad as expected, but normally he isn't when it's not a Riders game. Apart from him calling out people on social media, making up the RB on 3rd down thing (absurd), and saying 10 times that in order to get 2 plays with 10 seconds left you have to get out of bounds (what?) he was tolerable.
- Lalji on the other hand had a rough night, i'm not gonna go as far as to call him a BC Homer because I didn't get that impression, but it's painfully obvious that he spends alot of time with the BC Team and didn't do enough homework on the Ticats players. He made countless roster errors with the Ticats, TSN is just plugging gaps and it shows.
On to our stretch where it's going to feel like Groundhog Day with the schedule.
100% Shiltz should of made better use of the oline on 3rd down